More Information
Who is Wastematic?
Wastematic is the commercial brand of the proven MAX Appliances design of waste disposal units, which have been made in Britain for over 50 Years. Max Appliances is an independent British company based in East Sussex – we buy over 90% of our raw materials from British businesses and pay UK tax on all of the profit we make. We support Childline and The Yellowmen of Kadongdong, as our chosen Charities and Alex Murley Racing as our young person trying hard to get on in life.
For a Clean and Hygienic Kitchen
With a Wastematic, food waste is flushed away down your existing drain, leaving your food preparation and bin area's clean and free from hygiene problems. No more unpleasant odours from overflowing bins or leaking bags.
Effective and Convenient
With a Wastematic unit virtually all food waste including small bones can be disposed of at the flick of a switch, unavoidable spillage and residue from semi-liquid foods such as casseroles, become a thing of the past.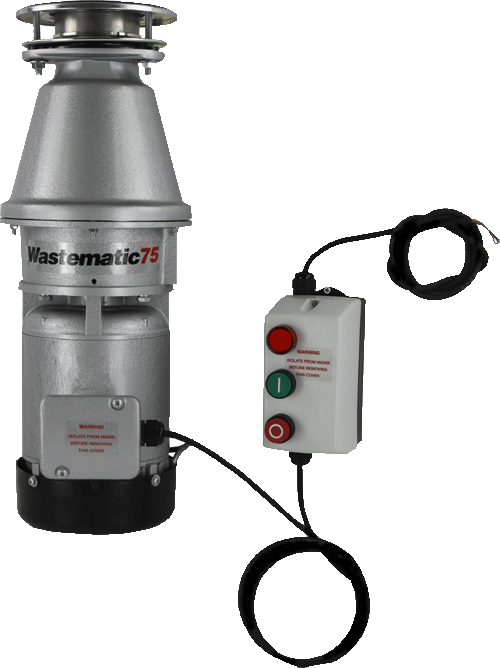 Why the Wastematic design is so successful
Our small commercial machines (50 to 150 series) are fitted with a cast cutter ring and rotor, these are mad from a hi Chrome Nickel Iron Alloy which is extremely tough and hard wearing. Food waste is ground into a fine pulp which is easily flushed away.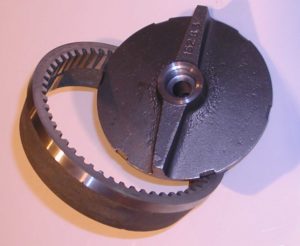 On our larger machines (300 Series), the cutter rotor is carried by its own set of heavy duty bearings. The drive is then connected to the motor with a rubber inserted coupler which reduces shock and vibration within the system. Together these make for a robust, long lasting and quiet machine.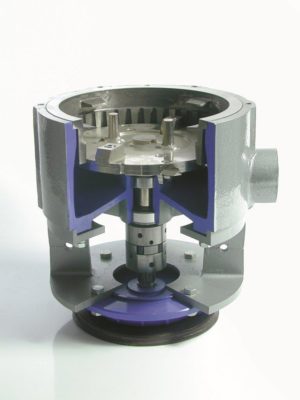 Is a Wastematic Unit Environmentally Friendly?
YES
As waste is safely flushed through your existing drainage system to a treatment works, there is a reduced reliance on refuse collection and associated fuel consumption. The addition of food waste to sewage aids the production of a valuable resource, currently the majority of this is recycled for forestry and other agricultural uses.
Although conventional waste disposers have been available in the UK for at least 40 years it is only recent environmental concerns that have started to encourage more general adoption. Concerns that adding food waste could overload waste water treatment plants have proven to be unfounded in the many studies that have been conducted throughout the world.
In New York City, for example, waste disposers were banned for many years as it was thought their antiquated sewerage system would not cope with additional burden. However an extensive study was undertaken in the 80's to determine the net environmental effect of waste disposers resulting in a lifting of the ban and a $300 grant to encourage their use.
Documentary evidence in favour of waste disposers is now considerable. The CIWEM (Chartered Institution Of Water And Environmental Management), an independent professional body representing over 12,000 environmental managers….concluded in their evaluation that food waste disposers may have a useful place in the management of food waste – "they might well be a more convenient and environmentally superior alternative to separate storage and collection". In Italy a general ban on Waste Disposers was lifted recently in recognition of their waste management potential in large-scale landfill reduction strategies.
Landfill increases Biological Oxygen Demand (BOD) which by starving oxygen can devastate local waterways and ecologies. Anaerobic Biological waste decomposition in landfill can produce Methane -a greenhouse gas that can also 20 times more damaging to the ozone layer than CFC's – and acid leachate that can contaminate the soil and groundwater (this is more damaging than raw domestic sewage).
Our government along with many others is committed to reduce landfill as set out in the EU Landfill Directive [1999/31/EC] adopted on 16 July 1999. The Directive aims to improve standards of land filling across Europe, through setting specific requirements for the design, operation and aftercare of landfills, and for the types of waste that can be accepted in landfills. The Directive is to be implemented over a period of years, impacting directly upon the industry this year.
Targets for Reducing Biodegradable Waste
The Directive sets out successive targets for reducing biodegradable municipal waste (BMW). BMW must be reduced to 75% of the 1995 baseline by 2010, 50% by 2013 and 35% by 2020.
Incinerators are planned to help meet the government's commitment to reduce landfill. Construction on green field sites will increase heavy traffic in local communities and it is unclear how the emissions will affect our health and the environment. Incineration leaves a residue of 25%-30% of the original mass, which may contain toxic chemicals and heavy metals, and which still has to be disposed of by landfill.
Composting at home cannot be attempted by everyone, proper management is required to avoid health hazards and similar problems associated with landfill. As it can only be used for true green material it leaves behind any 'animal based' or other food waste such as pasta and rice to be disposed of by one of the other methods.
Pig Swill and other methods of returning untreated waste to the food cycle have had devastating consequences in recent years. The outbreaks of Foot and Mouth, BSE and Swine Fever have been linked to untreated food waste being fed to animals.
With WASTEMATIC you can make a further positive contribution to your environment.
What can I Dispose of with a Wastematic?
All our models will dispose of average plate waste, vegetable peels, other food preparation waste and even small cooked bones in the smaller units and larger bones in the bigger units.
Our range starts with a 1/2 Horse power unit that will handle the waste from a small Café or restaurant, as we move up the range the power and capability increases, larger units will process more and harder waste. Waste disposal units in general do not like fibrous material like corn on the cob husks and care should be taken to avoid string.
How Much Maintenance is Required?
Your Wastematic should be added to your regular equipment checks.
What do I do if my unit stops working
The majority of calls we get are easily fixed by following these steps:
1) Turn off the power to the unit, preferably by unplugging it or turning it off at the mains.
2) Make a visual inspection of the unit, if there is any water on the sides or underneath, please go to 7)
3) With the de jam key supplied with the unit, check that the rotor is free to turn in both directions. If it does not check with a torch to see if there is something stuck between the cutter ring and rotor. If so remove it with long nosed pliers or grips, do not put your hand into the unit.
4) All our units are fitted with overload protection, this is a switch to disconnect the power if it jams or runs for too long in one go. The switch is on the base of the unit marked RESET, and should be pressed FIRMLY, if it has operated a "click" will be heard as the switch resets.
5) Reconnect the power.
6) Retry the unit.
7) Please call us on 01424 751666 with your unit serial number.
Service and Repair
Please use the
Contact Us
page to send us your details, including the serial number of your unit and a brief description of the problem, we will come straight back to you.
Updates to Your Operating Instructions
These additional notes are in addition to the booklet supplied with your unit.
1) This appliance is not intended for use by persons (including children) with reduced physical sensory or mental capabilities, or lack of experience and knowledge, unless they have been given supervision or instruction concerning use of the appliance by a person responsible for their safety.
Children should be supervised to ensure that they do not play with the appliance.
30th July 2007.